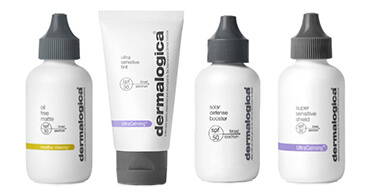 what is broad spectrum spf?
Do endless sunscreen options leave you burnt out? The United States Food and Drug Administration (US FDA) is cracking down to regulate testing and labeling – all to make it easier to choose the best sun protection to protect against your skin's worst enemy.
These new regulations correspond with improvements made to Dermalogica's Daylight Defense – meaning your favorite SPF products deliver even more sun protection and skin care benefits!
micro-encapsulation delivers the ultimate defense
UV Smart Booster Technology: Research shows that antioxidant vitamins are as important as sunscreens when defending the skin from damaging UV rays and free radicals. Daylight Defense products contain this technology, allowing for increased antioxidant protection against UV rays.
Oleosome Technology: these moisture-rich spheres allow for increased SPF performance of a product while using fewer chemical sunscreens, resulting in a product that is even more wearable and even less likely to cause sensitivity. (Featured in Solar Defense Booster SPF50 and Oil Free Matte SPF30.)
dermalogica and broad spectrum defense
Only sunscreens that pass the FDA's Broad Spectrum test (providing proportional protection against UVA and UVB rays) may be labeled as "Broad Spectrum."
All Dermalogica products containing SPF have been sent to independent laboratories to verify our "Broad Spectrum" status. Meet the improved Daylight Defense products!
Liquid error (templates/page.gem-49077518419-template line 14): product form must be given a product